Atlanta Chinese Dance Company celebrates its twenty-first anniversary with a new Chinese dance drama "Panda Escape" as well as revivals of two ACDC favorites--Back to the Roots (2006) and "Yellow River Piano Concerto" (2004)!
PANDA ESCAPE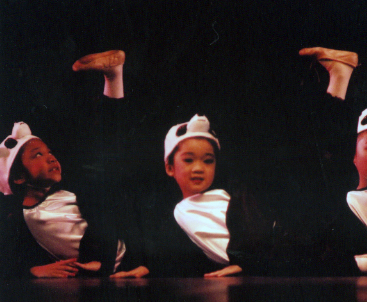 Artistic director Hwee-Eng Y. Lee's original Chinese dance drama "Panda Escape" is a fantasy about a U.S.-born panda who escapes to China to seek an adventure in his motherland. It capitalizes on Georgia's fascination with pandas at Zoo Atlanta and invites them to learn more about their country of origin through a collection of traditional Chinese folk and classical dances from China. As the protagonist journeys through China he encounters various aspects of Chinese history and culture, such as a Chinese opera troupe (which he briefly joins, much to the amusement of local children), Dunhuang grottoes with mural paintings of beautiful ladies from over 2,000 years ago, and the Sichuan province, home to over 80% of pandas (where he is greeted by the local Han, Tibetan, and Yi ethnic groups with their most celebratory folk dances).
BACK TO THE ROOTS SUITE
Back to the Roots, a full-evening work created for ACDC by Ms. Lee in 2006, is the story of a tender mother-daughter relationship between an immigrant Chinese mother and her Chinese-American daughter. Several audience members were moved to tears by our production in 2006, which inspired us to bring it back. The story encourages audiences to embrace their cultural heritage and tugs at the heartstrings of a universal mother-daughter relationship. For our 21st Anniversary Gala we will perform "Back to the Roots Suite," which pares down the full-evening production to the key storytelling moments. These excerpts include "Expecting" (mother's restless anticipation of her first born child in China), "From China to America" (mother's journey to a foreign country), "A Glimpse of Mother's Past" (mother's gift of her toy drum from China, symbolic of her roots in China, to her daughter), "Rebellion" (daughter's rejection of Chinese culture in efforts to fit in with her American counterparts), "In Mourning" (daughter's mourning of her mother's sudden passing, belatedly cherishing everything her mother taught her about China), and "Red Drum" (daughter's emotional visit to her motherland).
| | | | |
| --- | --- | --- | --- |
| | | | |
| "A Glimpse of Mother's Past" | "Rebellion" | "In Mourning" | "Red Drum" |
YELLOW RIVER PIANO CONCERTO
"Yellow River Piano Concerto," a contemporary Chinese dance piece named after the musical composition arranged for piano and orchestra after the "Yellow River Cantata" by Xian Xinghai, symbolizes the junction between Chinese and western cultures. A marriage of traditional Chinese dance and contemporary dance influences from the West, each movement of the concerto represents a different aspect of the struggle of mankind with the horrendous flooding of China's sorrow. Many audiences have repeatedly asked us when we will revive this work, so we decided that our 21st Anniversary Gala is the perfect time to do so. Staged by Ms. Lee on ACDC in 2004 based on award-winning choreography from China's Beijing Dance Academy, Ms. Lee's addition of props (an important aspect of traditional Chinese dance) to the piece offers a survey of many of the major ones used in Chinese dance, including ribbons, fans, scarves, sleeves, and umbrellas.
Featured in "Yellow River Piano Concerto" are two professional guest artists from the Atlanta Ballet—Peng-Yu Chen and Jared Tan.
Watch an excerpt of ACDC's "Yellow River Piano Concerto" here.
| | | | |
| --- | --- | --- | --- |
| | | | |
| "Prelude: Song of the Yellow River Boatmen" | "Ode to the Yellow River" | "The Yellow River in Wrath" | "Defend the Yellow River" |
ABOUT THE ATLANTA CHINESE DANCE COMPANY
ACDC is a non-profit organization dedicated to promoting the development, advancement, and appreciation of Chinese history and culture through the art of Chinese dance to metro Atlanta and surrounding areas. Founded in 1991 by Hwee-Eng Y. Lee, the company currently trains over eighty dancers. ACDC has presented fourteen original full-evening productions in theaters such as the Performing Arts Center at Gwinnett Center, Robert Ferst Center for the Arts, and Rialto Center for the Performing Arts as well as numerous community outreach performances throughout the metro Atlanta area. Most notably, the company appeared in the Opening and Closing ceremonies of the 1996 Centennial Olympic Games and the "Chinese variation" of Atlanta Ballet's The Nutcracker at the Fabulous Fox Theater for ten consecutive years.
This program is supported in part by: