The ATLANTA CHINESE DANCE COMPANY presents
Ren and Shen: Chinese Humans and Superhumans
Hwee-Eng Y. Lee, Artistic Director
Kerry Lee, Associate Director
Saturday, April 4, 2015 at 2:00pm
Saturday, April 4, 2015 at 7:30pm
Performing Arts Center at Gwinnett Center
6400 Sugarloaf Parkway, Duluth, GA 30097
$24 General Admission | $12 Students and Seniors
Purchase Tickets Online
Box Office: 770-813-7600

Featuring professional guest artists from the
Qi Shu Fang Peking Opera Company in New York!

Ren and Shen: Chinese Humans and Superhumans explores Chinese beliefs, traditions, and lifestyle through many angles -- from heaven to earth, from rural to urban, from young to old, from ancient to modern, from work to school to play, and through the lens of "Wu Xing" (the five elements: wood, fire, earth, metal, and water). Ren (human being, person, or people) captures the joys and sorrows of human relationships among Chinese people. Shen (god, deity, supernatural, or spirit) introduces supernatural beings in Chinese mythology.

---
ABOUT OUR PROFESSIONAL GUEST ARTISTS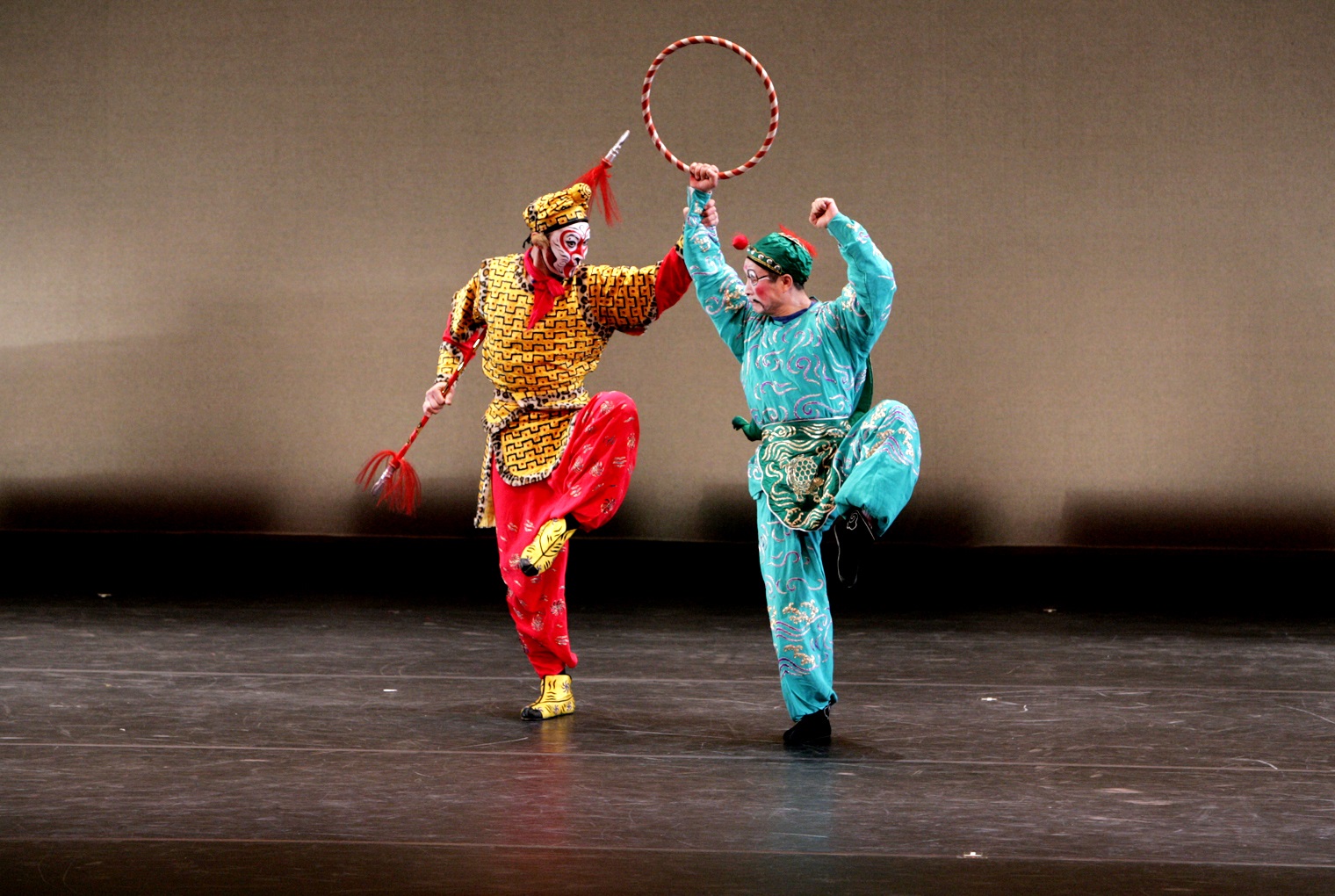 Atlanta Chinese Dance Company is honored to feature professional guest artists William Chunnuan Liu and Ren Yingxin of the Qi Shu Fang Peking Opera Company -- all the way from New York City -- in a highly acrobatic and theatrical excerpt from the classic Chinese mythological story Journey to the West!
Qi Shu Fang, a 2001 National Endowment for the Arts National Heritage Fellow, is hailed as one of the preminent masters of Peking Opera living in the United States. During the Cultural Revolution she was picked by Madame Jiang Qing, Chairman Mao's wife, to play the female lead in one of the eight national "model operas." Overnight she became a sensation throughout China. It is said that almost anyone from mainland China over the age of twenty-five can hum arias from her most famous operas. After immigrating to the United States in 1987, she and her husband Ding Meikui founded the Qi Shu Fang Peking Opera Company the following year to transplant their art to a foreign culture. The troupe has performed worldwide to critical acclaim.
William Chunnuan Liu is a well-known Beijing Opera actor. He graduated from Shenyang Institute of Arts and became a professional performer featuring in wu sheng, martial male role in Shenyang Peking Opera Theatre in 1996. Since 2000, Liu conducted over a thousand shows during his tours to Canada, USA, Korea, and the Bahamas, including the well-received Silk Road show for US audiences in 2001. He was rewarded by UN Secretary General Kofi Annan for his outstanding contribution to the United Nations Day for South-South Cooperation in 2005. He is an active player in many films, TV shows and commercials and is a member of Screen Actors Guild. In recent years, Liu founded an artistic center for promoting Beijing Opera among elementary and middle school students with an aim to raise the awareness of Chinese traditional culture and art in the US.
Ren Yingxin graduated from Hebei Beijing Opera Art College. A performer with Beijing Opera talent like his is hard to find. At the 6th Hebei Chinese Opera Festival in 2002, he won the Performance Prize. In 2005, he came to the United States, and since then has performed Beijing opera on many famous stages. His lively performances have always been extremely well-received by American audiences, and he has met New York City mayor Michael Bloomberg.
---
ABOUT OUR POSTER IMAGE


The mother in the piece "Faraway Child" (pictured left) does a repetitive, low skill task for seeming eternity, pushing a millstone around and around while her daughter flies away to university in a city far, far away. Like so many old ladies, she can't escape osteoporosis, and even looks to have developed a combination of tuberculosis and cataracts by the end.

Some people may find this to be very sad -- an aging woman confined to a lifetime of back-breaking labor, separated from the very child she worked so hard to raise -- but the mother herself is not among them. She, actually, seems so content. What more could she ask for than a daughter who can spread her wings? The mere thought of her daughter soothes her aching back, and a gentle smile spreads across her face.

Our deepest wish is to touch your soul. Through the energy that flows through the body, we hope you will be able to sense this rural Chinese mother's big heart, gentle spirit, and comical charm. And we hope she inspires you to be a better version of yourself -- more selfless, more tenacious, and more content.

Graphic Design by Linda Bernard
Chinese Calligraphy by Godwin Kou and Kuansoi Kou
Photography by Shelavon Vanzant and Stephanie Gough










---
ABOUT THE ATLANTA CHINESE DANCE COMPANY

Founded in 1991 by Hwee-Eng Y. Lee, the Atlanta Chinese Dance Company entertains and educates audiences on Chinese history and culture through the art of Chinese dance. The company has presented sixteen original Chinese dance productions, enchanting Chinese and non-Chinese audiences alike. In the words of an audience member from ACDC's 2013 sold-out production, "This is a phenomenal, world-class, first-rate astounding show. It is spectacular! The dancers are totally committed and professional. Amazing attention to all details -- slides are gorgeous and fun! It is complex in a stimulating way. It is beautiful and cinematic. It has perfect rhythm and flow. It is moving and dynamic. A million 'thank you's!' I only wish the whole world could see it!"
ACDC also serves as a cultural ambassador via community outreach performances, educational lecture-demonstrations, and workshops for schools and universities, libraries, senior centers, Asian American community events, arts festivals, international days, corporate events, private parties, etc. throughout metro Atlanta and surrounding areas. The company has had the honor of participating in the Opening and Closing Ceremonies of the Centennial Olympic Games (1996) and the "Chinese variation" of Atlanta Ballet's The Nutcracker (1998-2007, 2012-2013). Most recently, Associate Director Kerry Lee was the only Chinese dancer among the finalists who received a ticket to the So You Think You Can Dance Season 11 Callbacks in Pasadena, CA.

---

This program is supported in part by the
National Endowment for the Arts and Georgia Council for the Arts.