Photo Gallery
Video Highlights
Program
Watch the performance on YouTube here!
***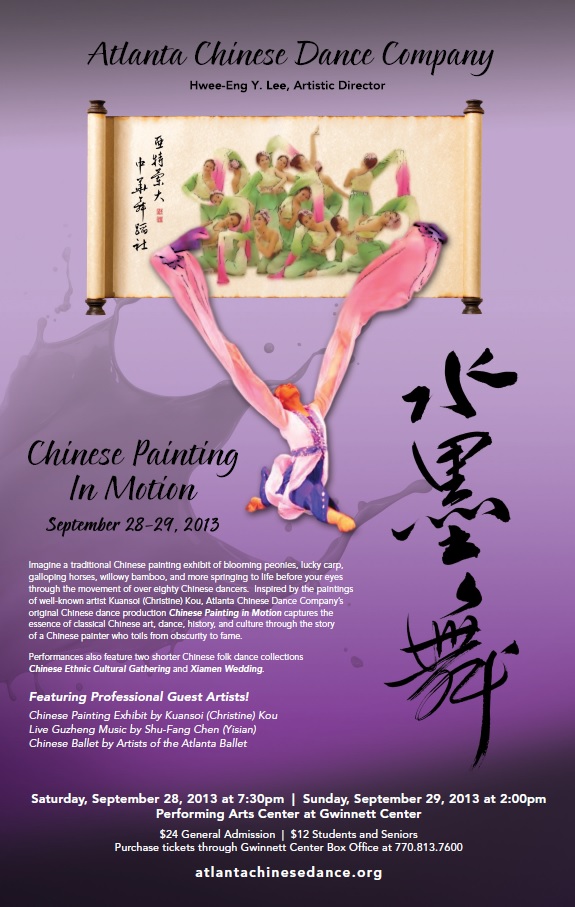 Graphic Design by Irene Chien
Top: Photo of Atlanta Chinese Dance Company by Kerry Lee; Chinese Calligraphy by Godwin Kou
Bottom: Photo of Kerry Lee by Lander Stoddard; Chinese Calligraphy by Kuansoi (Christine) Kou
---
Atlanta Chinese Dance Company's mission is to promote the development, advancement and appreciation
of Chinese history and culture through the art of Chinese dance in metro Atlanta and surrounding areas.
To book a Chinese dance performance, educational lecture-demonstration, or interactive workshop
for your event, please call (770) 449-9953 or e-mail atlantachinesedance@comcast.net.
---
ACDC offers Chinese dance classes for ages 4 to adult in Chamblee and Norcross.
Click here for the current class schedule.
---
Atlanta Chinese Dance Company
Hwee-Eng Y. Lee, Artistic Director
5595 Covena Court
Norcross, GA 30092
(770) 449-9953
atlantachinesedance@comcast.net
---
Home .|. About ACDC .|. What We Offer
Past Performances .|. Chinese Dance History
Chinese Dance Classes
Created by the Atlanta Chinese Dance Company
Copyright reserved